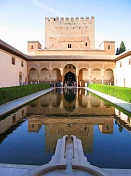 Alhambra in Granada
Imagine yourself staring at a breathtaking sunset overlooking the Alhambra Palace in Granada... imagine strolling though ancient narrow streets in Medieval Toledo or getting tanned on the sunny beaches of the Costa Verde in Cantabria...
Come, spend a summer with us in Spain and see for yourself. These and many other surprises are awaiting you. You will realize from the very first day that you and your new fellow travellers will be immediately bound by sharing the experience of visiting a different country, speaking a different language and in the end… living A Different Spain.
The founders of A Different Spain ensure the perfect combination for high school travel thanks to their diverse expertise in the fields of education and cultural travel.
Javier Gómez has been organizing group and individual travel to his native Spain since 1995 and has been operating his own travel agency in Salamanca for over 10 years.
Miguel Ángel Benito is the director of

, one of the most prestigious Spanish language academies in Spain. Miguel Angel began his career as a University professor and has been working in the field of Spanish language instruction for 20 years. Colegio Delibes is accredited by all of the most prestigious associations involved in the global accreditation of language schools.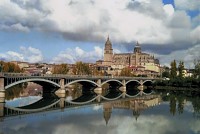 Bridge over the river in Salamanca
Graham Pereira is based out of Raleigh, North Carolina and has been involved in the field of education for the better part of a decade. Graham Pereira first traveled to Spain during the summer of 1997 as a part of an intensive university study-abroad program. He immediately fell in love with Spain and decided to make it one of his life's missions to share this fascination with others. He has returned to Spain many times in subsequent years, both as a student and as a teacher accompanying high school students as they explored and learned in Spain.
He firmly believes that student travel is an essential part in the acquisition of a second language and he is committed to creating opportunities for young people to travel to Spain.
Design and programming:
IKAD Multimedia
, S.L.
Copyright: ADifferentSpain 2007-2023